I said Nao!
Nao has made more socks. In fact, tonight Nao was beginning her third pair of socks. But I am not going to tell you about THOSE socks, no - I am going to show you the socks that Nao finished this week: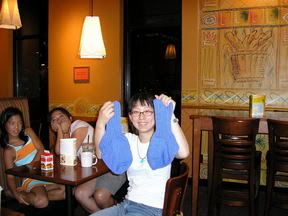 I also wanted to share my local SnB group with you - there were seven of us at Panera Bread in North Quincy, Ma., tonght, including Keiko's sister, who is 11 and visiting the United States from Japan. She's working on a scarf for her dad!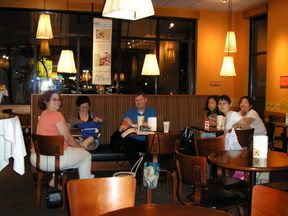 I said that I would post some pics of FOs once Caroline had received and opened her birthday gift from me. I now present to you, Zeeby's Bag from the SnB book: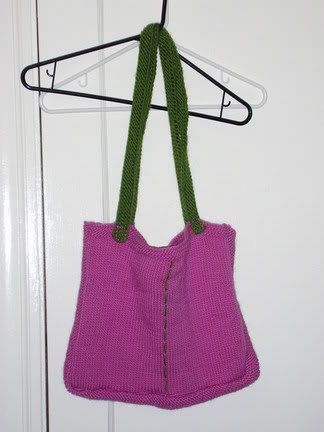 I ran out of the MC (that'd be the pink!) so I used the CC for the straps instead, but I am still pleased with how it turned out. I just want to make one for me now.
Well, since blogger ate my previous post (I swear, I was much funnier the first time), I will sign off now, but I wish you all a great week, and happy knitting!