Ah, the weekend...
It's been a great weekend, and terrific Sunday. I've spent time with lovely boyfriend, nearly completed the armholes of the cowl sweater, read some of a guilty pleasure type mystery-suspense novel, read a couple of great blogs, meandered through the KR forum, added some neat items to my blog, and am currently watching Season 2 of "King of the Hill" on DVD.
Of course, I SHOULD go to the grocery store, and I SHOULD balance my checking account, but I've made the executive decision that since the pizza place down the street delivers, and since I know I have enough money to pay for pizza, I can wait until tomorrow to do all the stuff I SHOULD do. :) Sometimes it is a great thing to be a grown-up.
I took a couple of pictures this morning that I'd like to share with you:
First, some of the basil that lovely boyfriend is growing -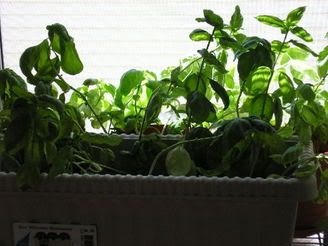 and some more basil...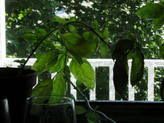 yes, this does add up to a lot of basil, but we've been making some wonderful pastas, and the kitchen and pantry smell wonderful. Have I mentioned that lovely boyfriend is a wonderful cook?
I also wanted to share a knitting related picture with you, and so I would like you to meet my friend Nao. Nao knitted her first pair of socks as a Christmas gift. I asked her to bring the finished product to our last Stitch N Bitch so I could get a picture of the finished product. I absolutely love these socks. I am so afraid of knitting socks (and yet so fascinated...) that I have an incredible amount of respect for Nao for tackling dpns right from the start. Nao makes me smile.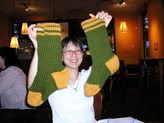 I hope you enjoy the pictures, and now I am off to finish the back of my sweater!
Have a great Sunday!