Pick A Title
Let's see, we could try:
I worship at the spindle of the Yarn Harlot
or,
What sweater?
or,
STASH!
Yep, I got my own little stash enhancement groove on tonight. I didn't really mean for it to happen, but I went to Michael's while lovely boyfriend went to Best Buy (a win/win situation if ever there was one) and when I walked in, low and behold, Michael's had COMPLETELY RENOVATED THEIR YARN SECTION. Now, the last time I went in there, there was lots of Bernat, lots of Red Heart, and that's just fine. Except that I've started to use some really nice yarn, like Lamb's Pride, and I've gotten a little spoiled. So, my trip into Michael's went like this:
Elisa, wandering through the clearance section, finds two full skeins of Lions Brand Fisherman's Wool, giggles and puts them in the basket (please, no Silence of the Lambs impersonations here, people - we're adults...heh). Then she finds a book, "Vogue Knitting - Vests", and for $3, she puts that in the basket, too.
Feeling like she's probably found all she's going to find, and being happy with that, she wanders over to the yarn section, and stops - agog, because she sees this: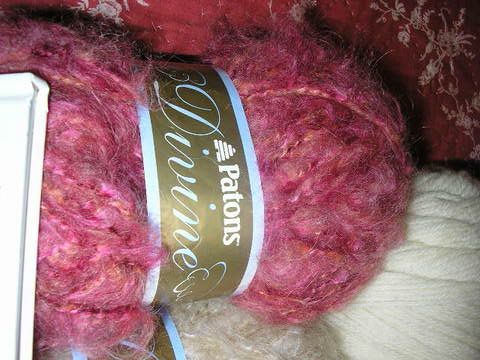 This is Paton's Divine, which is an acrylic/mohair blend, and is SO gorgeous and soft that she giggled. Out loud. Andquicklyputtheskeininthebasket.
In search of more of the Paton's loveliness, Elisa wanders further and finds lots more of the Divine. Which she buys. 6 skeins of. It's for a wedding gift, people, it's perfectly reasonable.
So, giddy, Elisa toddles up to the cashier, where she pays for all her purchases, rushes home, and before she can even show lovely boyfriend the new stash, she takes this picture (because this is blogworthy!!!):
Oh, she might have bought a pair of US 15 circs, too, but they might have just jumped in the bag.
In non-stashy news, the first sleeve of the cowl sweater, part 2, is almost complete. Sans mistakes.
I wish you all stashy goodness!